Lyra's Legacy – Prisoner
CD presale starts NOW ! Delivery: January 19, 2018.
Be quick or be dead special: First 50 copies come as Limited Edition, including a sticker and handnumbered CD signed by the band !
www.roll-the-bones-records.de/shop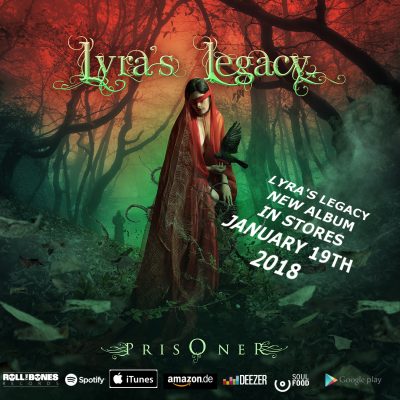 Lyra's Legacy represents sophisticated and melodious metal and inspires the audience with their melodies, musicality and power. They've put out a three track EP under the title "Lyra's Legacy".
Mirror Of My Life
Powerfull compact starter, very riff packed, few keyboard inserts. The fine outworked vocals show much variations in them and the refrain invites to sing along,
Breath Of A Winter Night
A epic beginning but it changes quickly to faster riffing, free power riffing follows. It's a very direct number going all on it.
Utopia
The final song starts slow and then goes over straight into a pure powerfull riff rollercoaster providing the listener with sharp, straight, hard, powerfull and intense moments.